Real Surf PH - First Beach Experience Ever!
Would you believe that at 27 years of age, I have never set foot at any beach ever?! Haha Yes, I've never been to any beach at this point in time.
Sadly, I grew up having an overprotective parents that rarely agrees to let me go to different places when I was younger. (And sometimes, even up to now). I've seen the sea/ocean before like Manila Bay, the one in Subic and other few places but never set foot in the beach with a sand.
So honestly, I really get so excited whenever I pass by a sea travel to provinces. Real, Quezon has one of the nearest beaches along the Pacific Ocean, that is if you're coming from Manila.
I was actually invited to join this trip along with few friends. We rode in a car and it took us about 3-4 hours to arrive at the place. Actually, we got a lil' lost along the way since Waze brought us to a different place. Haha Btw, we actually originally planned to check in a different resort/place since I thought we'll be staying the night in a room. But when we went to that place, there were only few people at the place and the receiving area was closed.
Good thing we went at Real Surf PH located in Barangay Malapad, Real, Quezon.
It is now one of the nearest beach and surfing spot near Manila. Arrived there around 4pm already and we were immediatedly welcomed by the owners. The owners & staffs were very welcoming and accommodating to us.
We chose to rent a cabana facing the beach for an overnight stay. It would only take a few steps from the cabana to the beach.
Here are the accommodation & rates they offer as grabbed from their official Facebook page:
Real Surf gives of that nice chill vibes through the surfing designs of the place. The place is huge enough for me and is very well maintained.
After putting down our bags on the cabana, we immediately ate our cooked adobo and headed to the beach since the sunset is getting near.
Here's my first beach photo I took near the beach.
Yay! Imagine my excitement when I first stepped in the sand and walked til the saltwater touched my feet.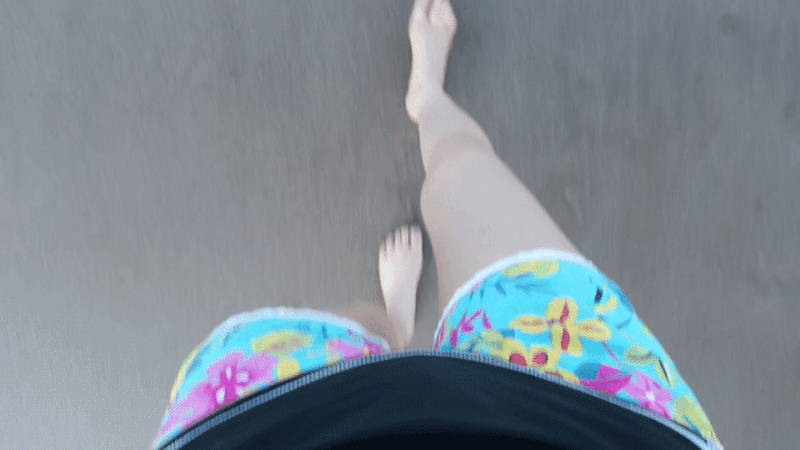 Of course, I took a video of that and you can actually see that clip in my Youtube channel.
I was a bit scared at my first dip on the sea as I find the large sea of water very overwhelming to see. Haha I was literally holding my friend's arm so tight since I'm too scared that the water will wash me away. Haha Btw, the water is clear and the bottom part is very sandy and soft. Also, since it was my first dipping into the sea, I literally tasted the water to check if it was realy salty. And yes, it was. Sorry but I'm really fascinated by that. (I'm so babaw haha). Just after a few minutes in the sea, we already went back to our cabana since we had to grill the fish called Yellow Fish that we bought on the market.
Btw, before we went at Real Surf, we stopped by the market (just 5-10 minutes ride) to buy some fish to grill. Seafoods sold there are very cheap and just take note that these seafoods are fresh as they came straight out from the seawater.
Came night time. It was a weekday when we get there so surprisingly, we were the only guests they have for the overnight stay. Meaning, we had the place to ourselves!! It's like a private vacay but not. Haha
Oh, forgot to mention that they do have a security in the area so that's a relief.
What we did during the night? We ate. We drank. And STARGAZIIIING!!! The stars there were really amazing!! It was my first time seeing lots of bright stars in a huge view of night sky. Seeing those stars made me ponder bout life and lots of stuffs.
Btw, there are NO SIGNAL at the place (All of us uses Globe). Who needs signal when you can relax and chill at this place, right? Slept early since I badly felt so sleepy after finishing 1 bottle of Tanduay Ice (Yea, I'm already that weak in drinking since I rarely drink now haha).
**The cabanas we rented included a single cushion so I was able to lay down around 1am already. I closed the black cloths for my privacy. But.. I actually had a hard time sleeping well. After lots of turns from left to right then right to left, changing my sleeping positions like forever, I was able to sleep after an hour. I don't blame the resort for my sleeping habits since first, I didn't bring any sleeping bag, comforter or pillows since I was expecting that we will rent a room with blanket and all. I do get chilly immediatedly due to the cooly wind so I find it very hard to sleep using just 2 towels as an alternative to a blanket. 2nd, I find the flap of the black cloth covering us from the outside, too noisy as the winds passed by. I'm a light sleeper so I find it too noisy as well as the sound of the beach waves. Let's say, I didn't find it comfortable to stay since I wasn't prepared and I have lots of sleeping issues. Though I think all my friends had a goodnight sleep. Some of them even slept at the chill lounge area with sleeping bags all over with no troubles.
Woke up to the sound of the beach waves and birds chirping. The sky slowly turns into blue and I knew it was already morning but not sure of the time.
Checked my phone, it was just 5AM. I really thought it was 6am already. Just took a few snaps of the sunset and went near the beach to vlog. I badly wanted to dip and swim but was too afraid since I was alone (I was the first one to get up). It was already at around 6-7am when my friends finally woke up.
Finally took some photos of the place (there were still no other guests that time) and vlogged when alone again. Haha
Since the sun was already up, I took some photos of the beautiful Real Surf PH that I'll be sharing with you today. (just click the photos to enlarge)
The Beach
Here are there cabanas for rent.
(just click the photos to enlarge)
It includes A single cushion, hammock, beach chair, mosquito net, small table inside, picnic and a table outside. You can pitch your (1) own tent for free. For those who might be curious if they have an outlet, yes every cabana includes 2 electrical outlets. They also provide 1 electric fan for every cabanas. Yay for that!
As far as I know, you can pitch a tent here for free but you just have to pay the entrance fee.
And btw, the entrance fee is not included in the cabana rental. The entrance fee on the other hand includes free use of common area, communal toilets, bath and grill.
Speaking of the grill, here is the Grill area.
Here is the common area with bean bags on the other side and a store/mini bar on the other side.
(just click the photos to enlarge)
Btw, you can buy some foods and drinks here. Though the items sold here are 50% higher than the usual price. Bought shampoos and conditioner here for P12 each (bought 6 of them) and also bought coffee with free hot water for Php20.
Here on this side is the Toilet & Bath area. They really have a well maintained CR's as it is always clean whenever I enter. Haha
I wasn't able to swim again as I find the 8am sun (onwards) stings on my skin so bad and it was already freakin' hot. My friends actually started to swim at 10am so again, I was left alone vlogging & taking lots of selfies. haha.
Sharing my selfie galore photos below:
These are minimal selfies. The situation was like that till we left at 1pm. No regrets since I don't wanna get tan. No way. Haha I was actually planning to swim in the afternoon but didn't know we'll be leaving the place so early.
At around 1pm, we went at Balagbag Falls, just a few minutes drive from Real Surf.
I heard that the water's good here so I badly wanted to dip in the falls. But sadly, I wasn't able to. :( Was looking for a cr to change but I saw none. It was only on the way out that I was able to see a CR, almost. Just to change my clothes sana. But it's okay. Haha
Balagbag Falls is a 2-tier falls but I wasn't able to went up since I was left alone down the first water falls. I was badly thinking hard if I would come up to catch up with my friends.
(just click the photos to enlarge)
Btw, we rented a cottage for Php300 and they swam. Haha I was alone again, taking photos of the place. vlogging and taking selfies! haha
Just dipped my feet into the cold water. No worries, I did enjoyed that.
We went home at around 3PM. Back in Manila around 7pm.
(just click the photos to enlarge)
Sharing the video/vlog I made for this trip: Real Surf PH - First Beach Experience Ever! on my Youtube Channel :)
Though I was almost alone most of the time, the whole experience was fun and exciting for me especially it was my first beach experience. I was able to explore some of the places alone but it would be better of course, to explore the place with someone or with my friends who I can just easily tag to the places I wanted to. I did enjoyed being with new friends and new people but of course, it's different when you're with you're own friends. Yes, I'm very maarte that why I wasn't really able to enjoy this trip to the fullest. Also, I'm not that aware of the itinerary for the trip and I'm just tagging along.
But I do hope to comeback here someday :) And I hope this will be the start to see more beautiful beaches this year and so on. Let's hope for the best. Haha :)